Objective Campaign
To make consumers (40+) aware of the importance of the heart. The campaign aims at providing the readers with useful and relevant information about health/healthy eating and raise awareness on the problem of cholesterol. Becel chose Rossel Advertising for its wide range of media but also for the accurate contextual environment Rossel Advertising has and in which articles and ads are published.
Media Characteristics
Crossmedia campaign with 3 dimensions:
1) Momentum in March & September with two tailor-made berliners of 8 native pages, placed in the heart of Le Soir.
2) Always-on thanks to in-paper content relayed via digital formats and hosted in a partnerzone on lesoir.be with 18 articles written by content marketing journalists.
3) « Call to action » (print: full page couponing included in the tailor-made berliner & web: retargeting).
Reason Best Practice
This crossmedia campaign is a powerful example of the strenght Rossel Advertising proposes with its wide media mix, both on a print and a digital level. Rossel Advertising is the only french-speaking partner of Becel for this 8 months campaign. This shows how much Becel is trusting us to widespread their message to the right target group within french-speaking Belgium. Advertising's formats have been really creative. For the in-paper ads, we published, and this for the very first time, 2 tailor-made berliners of 8 pages each about the importance of the heart and and too add that little extra we integrated the content in the heart of our newspaper Le Soir. We found a way to integrate the word « heart » wisely within the paper. For the digital part of the campaign, we setup a partnerzone including lots of articles written by journalists being able to adapt the content to the the correct timing.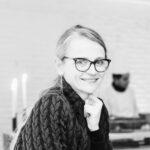 Annelore Van Hove,
Media & Channel Manager Delhaize Belgium
"Dit is een zeer geslaagd voorbeeld van een informatief dossier in het hart van de krant dat bovendien past in de consistente 'always on' strategie en het DNA van het merk."